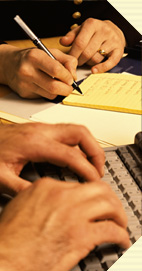 Training Services
Our training programs have a flexible modular design with connecting themes. The modules can be applied separately, each representing a complete stand-alone training course, or integrated in a variety of combinations to focus on one area or another in accordance with the client's needs, or as one comprehensive total training program.
Our training programs have been developed and are delivered by senior practitioners who straddle academic thought leadership with practical implementation experience. The case-studies that they use stimulate focused discussions leading to a deeper understanding and longer retention of the concepts and principles introduced.
We focus on two areas of training, Credit Management and Project Management. Credit tends to be the first interaction a new business has with the outside world, and one that stays with the business throughout its life. With change being the only constant in today's business environment, Project Management has gained more prominence with more and more businesses "projectizing" their operations. The Organizational Project Management Maturity determines how well business initiatives are managed, and as indicated, these initiatives have become critical to the success of most businesses.